Comfort Food
Napa Valley Meatballs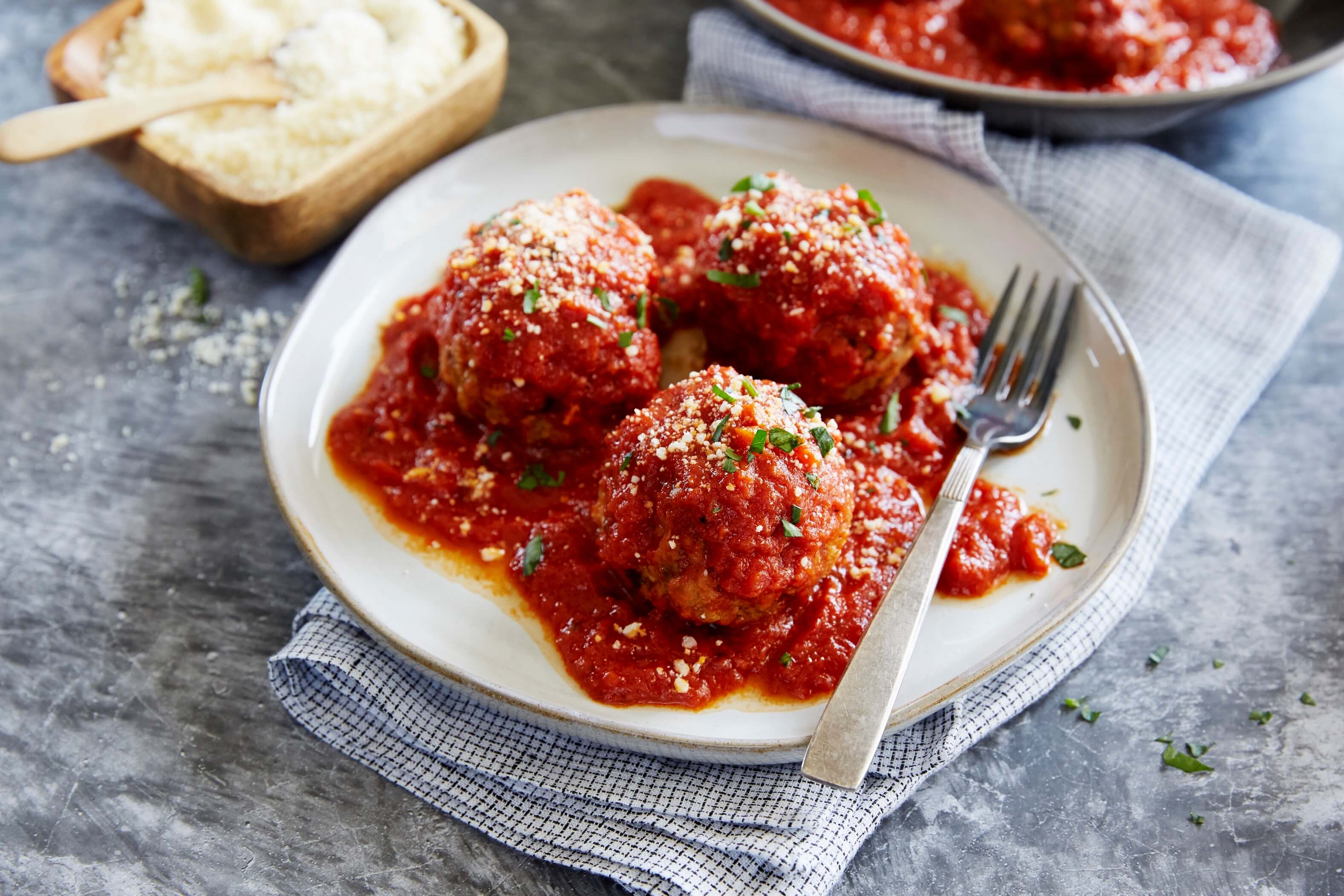 Red wine gives these juicy meatballs an added depth of rich, fruity, flavor, while paying homage to Mezzetta's® roots in the beautiful Napa Valley.
1 lb ground beef
1 lb ground pork
2 cups panko breadcrumbs
1 cup whole milk ricotta
1/2 cup Pecorino-Romano cheese grated, plus more for serving
3 cloves garlic grated or finely minced
3 tablespoons Italian parsley finely chopped
3 large eggs beaten
3/4 cup dry red wine*
3/2 teaspoons kosher salt
1/2 teaspoon ground black pepper
1/4 cup extra virgin olive oil
2 jars (24-25 ounce) of your favorite Mezzetta® pasta sauce
Instructions
Preheat your oven to 425°F and line a rimmed baking sheet with parchment paper.
To a large mixing bowl, add the ground beef, ground pork, breadcrumbs, ricotta, grated pecorino, garlic, parsley, eggs, red wine and salt and pepper. Gently mix to combine, being careful not to overmix.
Roll the meatball mixture into golf ball sized portions and place evenly on the prepared baking sheet.
Brush or drizzle with olive oil and transfer to the oven to bake 30 minutes until lightly browned.
While the meatballs bake, bring your favorite Mezzetta® pasta sauce to a simmer in a large pot.
Once the meatballs are done, add them to the simmering sauce and allow them to finish in the sauce for an additional 10-15 minutes before serving** and garnishing with a sprinkling of extra cheese.
Enjoy!

Chef's Note
*The red wine adds a fruity depth of flavor to these meatballs and is our homage to the Napa Valley. You could also use chicken stock or water.
**Serve these meatballs over polenta, spaghetti or on a sandwich roll for a delicious meatball sandwich.