Comfort Food
Italian Style Pork Ribs (Rosticciana) with Fennel Slaw
Cook Time:
2 hours 30 minutes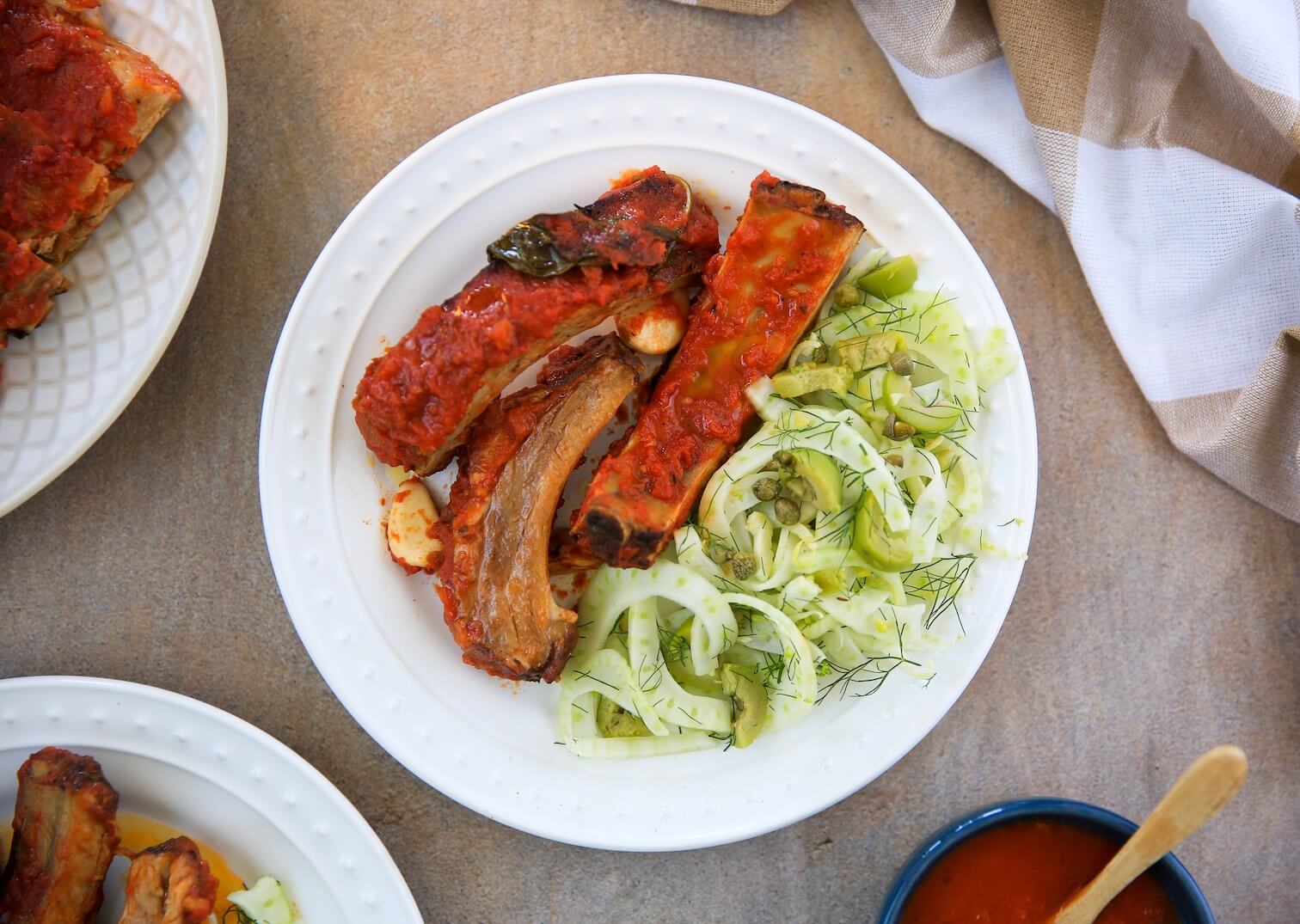 Ribs aren't just for barbequing anymore! Delicious pork ribs are braised in our Whole Garlic and Sweet Basil Marinara until they are fall off the bone tender. Paired with a bright crisp fennel slaw, it's the perfect Tuscan inspired meal!

Fennel Slaw
1 lemon zested and juiced
1/4 cup extra virgin olive oil
salt and pepper to taste
2 fennel bulbs cored and thinly sliced, fronds reserved and chopped
3 celery stalks thinly sliced
2 tablespoons Imported Non-Pareil Capers drained
Italian Pork Ribs
2 tablespoons balsamic vinegar
1 tablespoon light brown sugar
3 cloves garlic minced
3 sprigs fresh rosemary leaves stripped and finely minced
1/4 cup extra virgin olive oil
2 (1 1/2 - 2 lb.) racks baby back ribs
salt and pepper to taste
2 (24 ounce) jars Artisan Ingredients® Whole Garlic & Sweet Basil Marinara
Instructions
Preheat your oven to 350°F.
In a small bowl add the balsamic vinegar, brown sugar, minced garlic, rosemary, and olive oil and whisk to combine.
Remove the membrane from the rack of ribs*, season both sides liberally with salt and pepper to taste. Rub both racks with the balsamic and herb mixture and transfer the ribs between two large sheets of aluminum foil.
Wrap to fully cover, adding additional sheets of foil as needed, and place the ribs on a rimmed baking sheet. Transfer to the oven to bake for 2 hours.
Meanwhile, make the fennel slaw: Add all the ingredients to a large bowl and toss together to combine. Chop the reserved fennel fronds and add to the bowl, tossing to combine. Cover and store in the refrigerator until ready to serve.
With a sharp knife, cut the racks into individual ribs and nestle them into a large roasting pan or 9x13 baking dish. Cover with the Artisan Ingredients® Whole Garlic and Sweet Basil Marinara and transfer to the oven to bake for an additional 1-1 ½ hours until the ribs are "fall off the bone" tender.
Carefully transfer the ribs to a large platter, spooning additional sauce over top and serve with the fennel slaw.
Enjoy!

Chef's Note
*To remove the membrane from the ribs, slide a butter knife or small spoon under the silver skin on the underside of the rack of ribs to separate it from the bone. Once you have the membrane loosened, slide two fingers under and start to gently peel it away from the ribs. Use a paper towel to grab the membrane and pull slowly until the membrane is removed.