Pasta & Pizza
Gnocchi with Basil Pesto and Crispy Prosciutto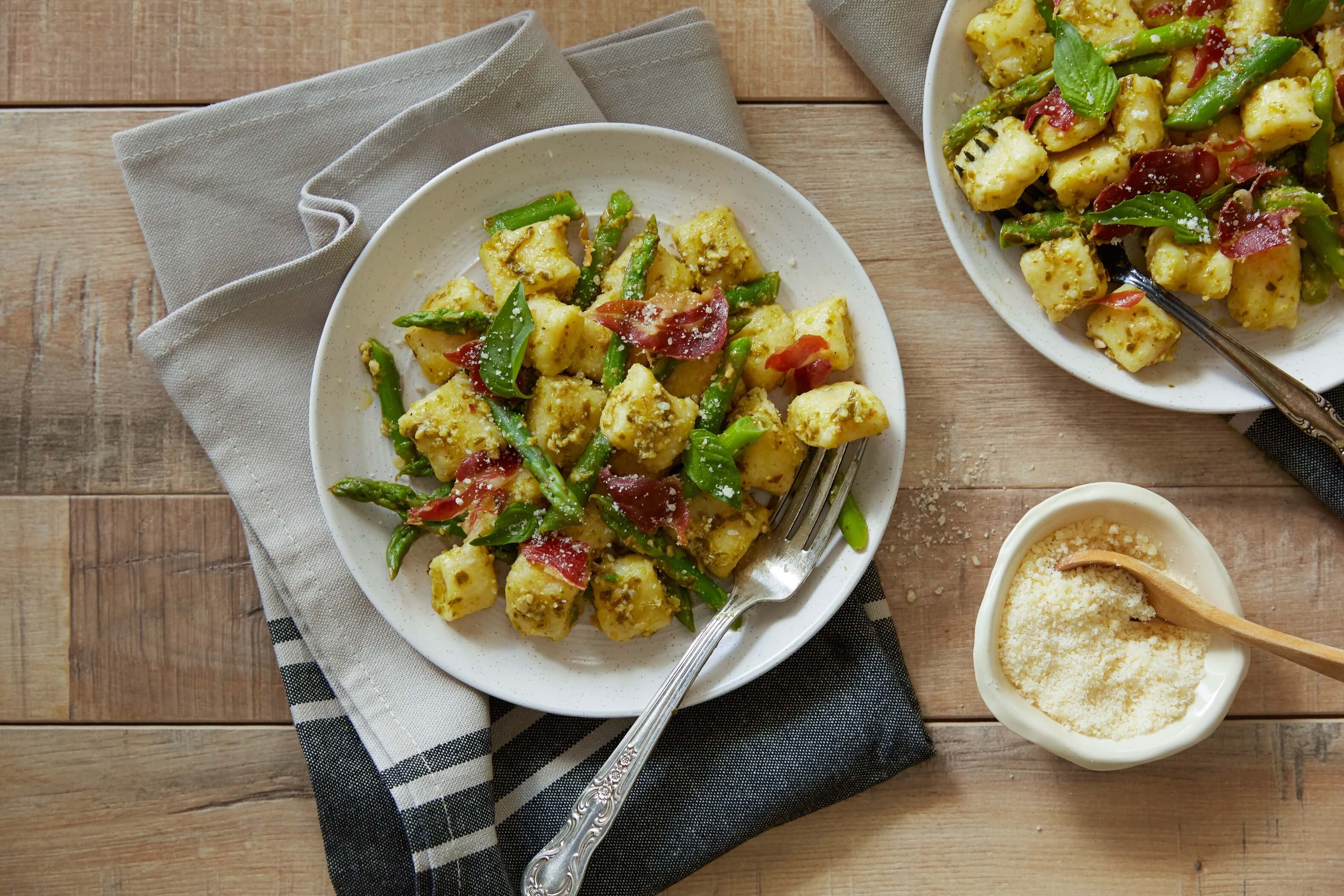 The easiest homemade gnocchi with just 4 ingredients and no potatoes required! Light and pillowy gnocchi is tossed with simple blanched asparagus, crispy prosciutto and our Artisan Ingredients® Basil Pesto to create an easy spring pasta everyone can enjoy!
4 slices prosciutto
1 (15oz) container whole milk ricotta
3 egg yolks
1 cup all-purposed flour
1 cup grated parmesan cheese
Salt and pepper to taste
1 bunch asparagus ends trimmed and cut into 2-inch pieces
1 (6.25oz) jar Artisan Ingredients® Basil Pesto
Fresh basil leaves for serving
Instructions
Preheat your oven to 400°F and line a baking sheet with aluminum foil.
Lay the slices of prosciutto onto the foil and bake in the oven for 8 minutes until crispy. Remove and set aside.
While the prosciutto bakes, place 2 paper towels on a large plate and add the ricotta and spread into an even layer. Place another layer of paper towels on top and gently press down to let the excess moisture soak into the paper towels and transfer to a large mixing bowl.
Add the egg yolks to the bowl and stir briefly to combine. Add in the flour, Parmesan, salt and pepper, and mix.
Bring a large pot of salted water* to a boil over medium-high heat.
Transfer the dough to a floured surface and shape into a disk. Cut the disk into 8 equal pieces and, using your hands, roll each piece out on the counter into a long rope, roughly 1 inch wide.
Cut the ropes into small gnocchi pieces and lightly dust with flour.
Add the asparagus to the boiling water and cook for 2 minutes until bright green and tender and, using a slotted spoon, transfer to a large mixing bowl.
Add the gnocchi to the water and cook until they float to the top, about 1-2 minutes. Carefully transfer them to the large mixing bowl with the asparagus using a slotted spoon.
Pour in the jar of Artisan Ingredients® Basil Pesto and toss everything together to combine.
Divide the gnocchi among bowls and break the crispy prosciutto into pieces and sprinkle over top and garnish with fresh basil leaves before serving.
Enjoy!
Chef's Note
The perfect ratio of salt to water for cooking pasta is 1 tablespoon of salt for every 4 quarts (16 cups) of water.