Sides & Snacks
Braised Greens with Pancetta and Giardinera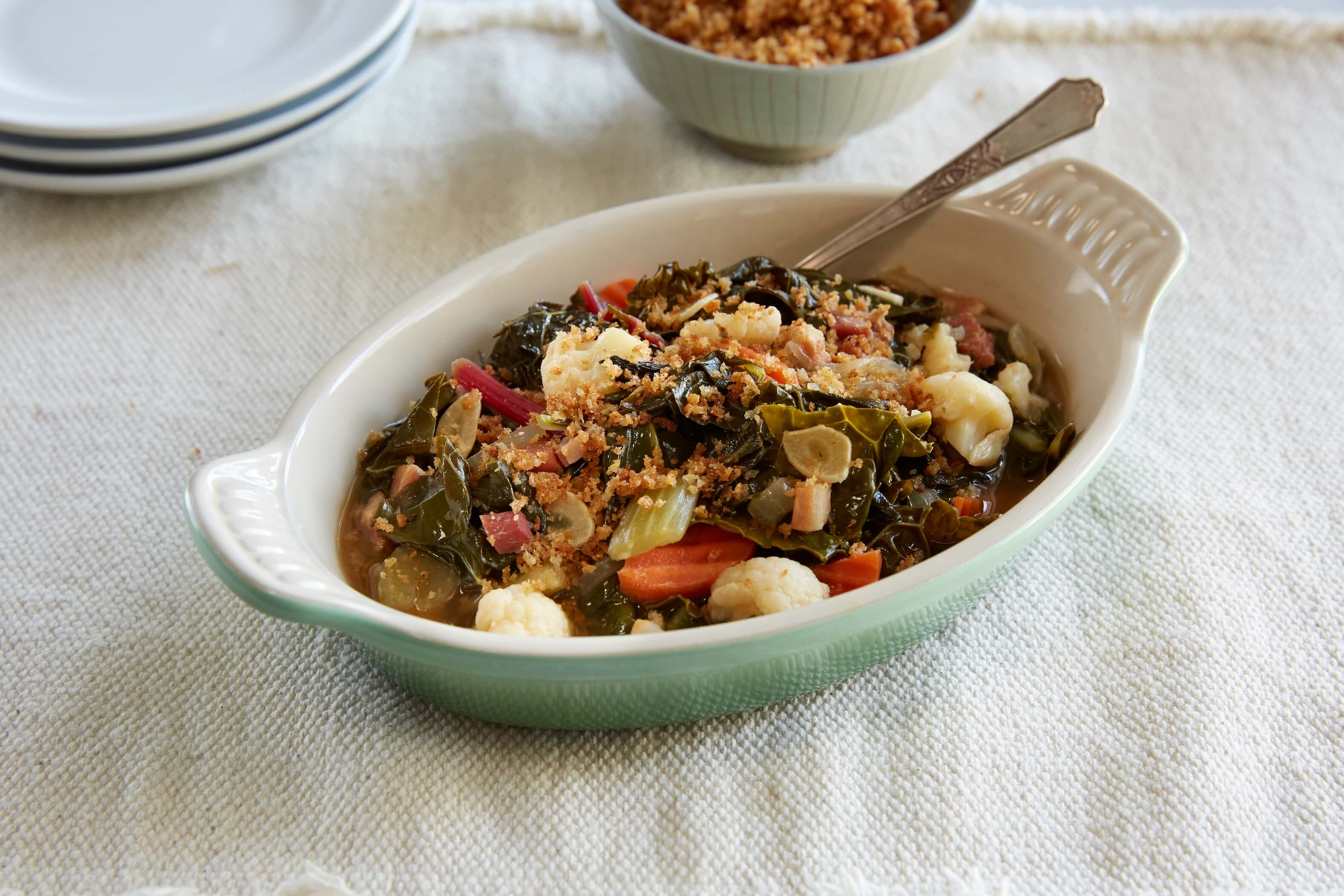 .Hearty braised greens get a burst of flavor by adding our tangy Mezzetta® Italian Mix Giardiniera and salty pancetta. The perfect side dish for fried chicken, ribs or any of your favorite comfort foods. Or you can make it vegetarian by excluding the pancetta. Either way, it's a savory take on vegetables that is sure to satisfy.
Braised Greens Ingredients
2 tablespoons extra virgin olive oil
4 ounces diced pancetta
1 yellow onion sliced
4 garlic cloves thinly sliced
2 lbs. sturdy greens such as Swiss chard, collard greens or kale rinsed, ribs removed and leaves roughly chopped into 1 ½-2-inch pieces
Salt and pepper to taste
1/2 cup Italian Mix Giardiniera roughly chopped
1 cup vegetable broth
2 tablespoons red wine vinegar
Garlic Breadcrumbs Ingredients
4 tablespoons unsalted butter
1 cup panko breadcrumbs
2 tablespoons garlic powder
Instructions
Heat the olive oil in a large Dutch oven or heavy bottomed pot over medium high heat. Add the pancetta and cook, stirring occasionally, until golden brown and crispy, about 5 minutes.
Reduce the heat to medium and add the sliced onion and garlic and cook for an additional 5 minutes or until the onions are softened and the garlic is fragrant.
Add the greens to the pot, season with salt and pepper to taste and stir until slightly wilted, about 2-3 minutes. Add in the remaining ingredients, bring to a boil, reduce the heat to medium low and cover to simmer for 30 minutes until the greens are tender.
While the greens braise, make the garlic breadcrumbs. In a small skillet melt the butter over medium heat, Once the butter is melted add the breadcrumbs and garlic powder and toast, stirring often, until golden brown and fragrant, about 4 minutes. Season with salt to taste and set aside.
Transfer the greens to a large serving bowl and sprinkle the garlic breadcrumbs over top.
Enjoy!