Meat & Poultry Dishes
Seared Steaks with Pepper Chimichurri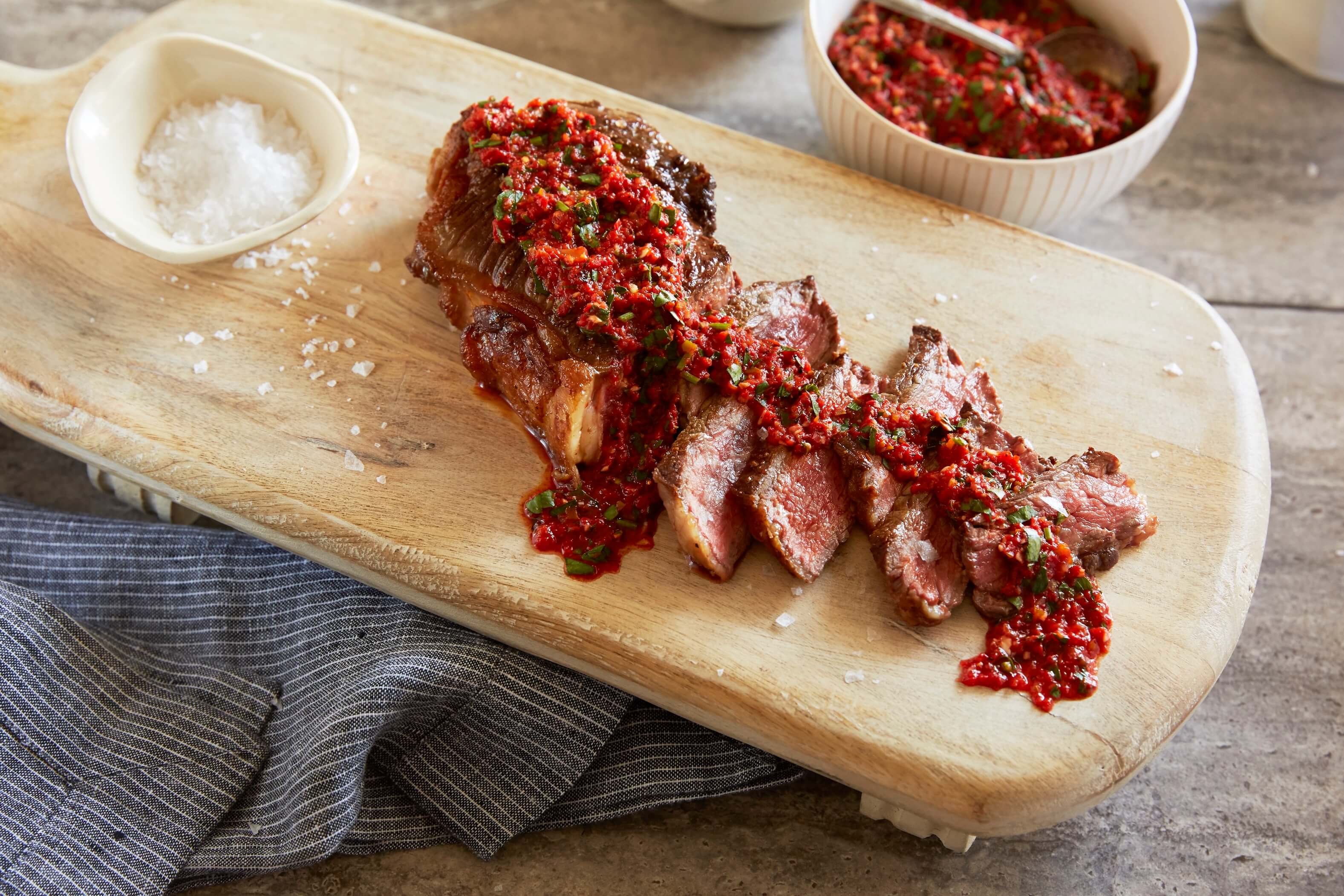 In its country of origin, Argentina, chimichurri comes in two colors—red and green. While the green is more common and traditional, our take on the red chimichurri offers a subtle sweetness and slightly smoky flavor, thanks to the addition of Mezzetta® Roasted Red Bell Peppers, Jalapeño and Sweet Cherry Peppers. For an extra depth of flavor, char your steaks on the grill, and enjoy!
Instructions
In a food processor, add the Mezzetta® Roasted Red Bell Peppers, Mezzetta® Sliced Tamed Jalapeño Peppers, Mezzetta® Sweet Cherry Peppers, and chopped garlic cloves. Pulse until coarsely chopped.
Transfer to a bowl and add the parsley, olive oil, salt, and pepper. Stir to combine and set aside.
Blot the steaks dry with a paper towel. Season both sides liberally with salt and pepper and drizzle each steak with a teaspoon of canola oil.
Heat a heavy bottomed or cast-iron skillet over medium high heat until it begins to smoke. Add each steak and cook about 4 minutes per side for medium.**
Allow the steaks to rest on a cutting board for 5 minutes before slicing and serving with the pepper chimichurri.
Enjoy!
Chef's Note
*Make sure your steaks have come to room temperature for 30-45 minutes to ensure even cooking.

**Cook the steaks for 2-3 minutes per side for medium-rare, 4 minutes per side for medium and 6-7 minutes per side for well done.