Meat & Poultry Dishes
Moroccan Spiced Lamb Chops with Couscous Salad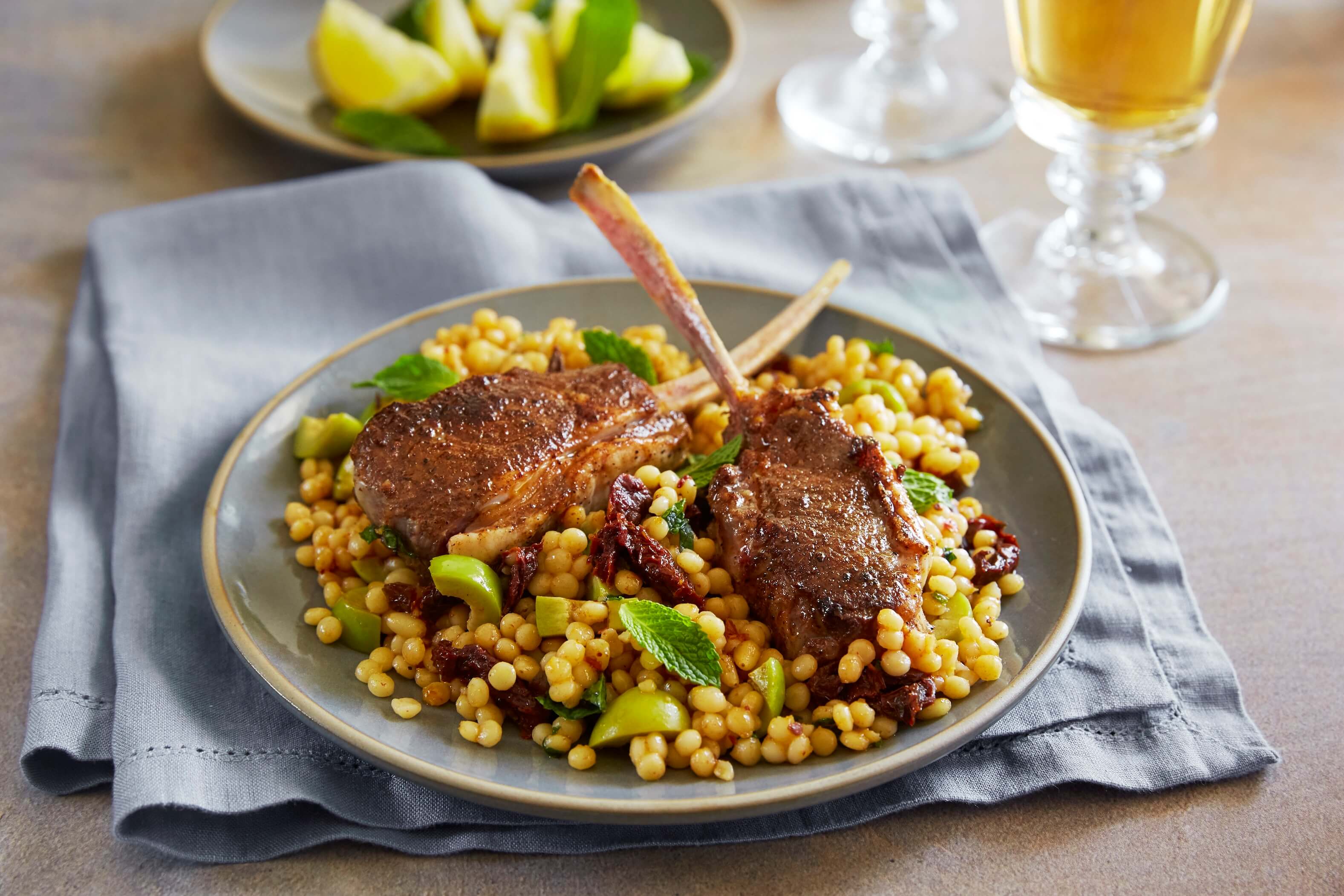 Fragrantly spiced lamb chops are served over a delectable Israeli couscous salad for the perfect summer meal. Whether you cook them on a grill outdoors for a savory charred flavor or sear them in a skillet on the stove in the winter, this is a recipe that delivers a taste of summer year-round!
Couscous Salad
2.5 cups vegetable broth
2 cups pearl (Israeli) couscous
Salt and pepper to taste
1/4 cup extra virgin olive oil
1 lemon juiced
1/2 cup Julienne Cut Sun-Ripened Dried Tomatoes Sulfite Free drained
1/2 cup Colossal Castelvetrano Style Pitted Olives roughly chopped
1/4 cup toasted pine nuts
4 pitted dates halved and sliced
1/4 cup chopped fresh mint
Moroccan Lamb Chops
1/2 teaspoon ground cumin
1/2 teaspoon garlic powder
1/2 teaspoon smoked paprika
1/4 teaspoon ground ginger
1/4 teaspoon ground cinnamon
2 lbs. lamb chops
Salt and pepper to taste
2 tablespoons neutral oil such as vegetable or grapeseed
Lemon wedges for serving
Instructions
In a medium-large pot, bring the vegetable broth to a boil and add the couscous and salt and pepper to taste. Reduce the heat to low and simmer until all of the liquid is absorbed, about 8-10 minutes.
Transfer the couscous to a large bowl to cool slightly for 10 minutes. Add the remaining ingredients and season to taste with additional salt and pepper. Set aside until ready to serve.
To a small bowl, add the ground cumin, garlic powder, smoked paprika, ginger and cinnamon. Stir to combine.
On a large plate, season the lamb chops with salt and pepper to taste and sprinkle all over with the spice blend until fully coated.
Heat the oil in a large skillet over medium high heat and cook 3-4 minutes per side for medium. Divide the couscous among plates and top with the lamb chops and a lemon wedge to garnish.
Enjoy!