Salads
Kale and Citrus Salad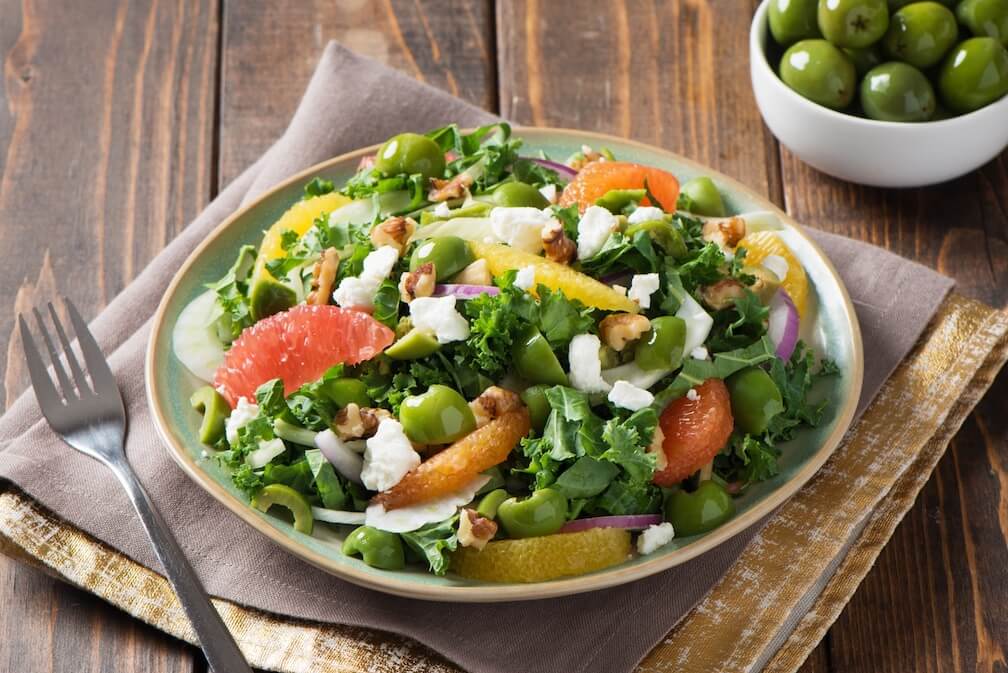 This refreshing salad is the perfect addition to any meal, any time of year. Fresh kale and fennel are paired with ripe oranges, grapefruit and crumbled goat cheese and then topped with our Colossal Castelvetrano Style Pitted Olives. Healthy and delicious!
Salad
1 navel orange
1 pink grapefruit
1 (5 ounce) container baby kale
1 fennel bulb thinly sliced
1/2 cup crumbled goat cheese
1 cup Colossal Castelvetrano Style Pitted Olives halved
Citrus Dressing
Reserved citrus juice
1/3 cup extra virgin olive oil
1/2 teaspoon Dijon Mustard
2 tablespoons apple cider vinegar
Salt and pepper to taste
Instructions
Segment the citrus: Using a sharp knife, carefully slice off the top and bottom of the orange and grapefruit. Using even downward strokes, slice the peel away from the flesh and discard. Over a bowl, cut between the membranes to segment the citrus. Squeeze the juices from the remaining bits of the citrus into the bowl and set aside.
In a large mixing bowl, combine all the remaining salad ingredients with the citrus segments and set aside.
Into the bowl containing the citrus juice, whisk in the olive oil, Dijon mustard and apple cider vinegar. Season with salt and pepper to taste.
Drizzle enough dressing over the salad to lightly coat, and toss.
Serve immediately.
Enjoy!