Breakfast & Brunch
Egg and Polenta Brunch Bowl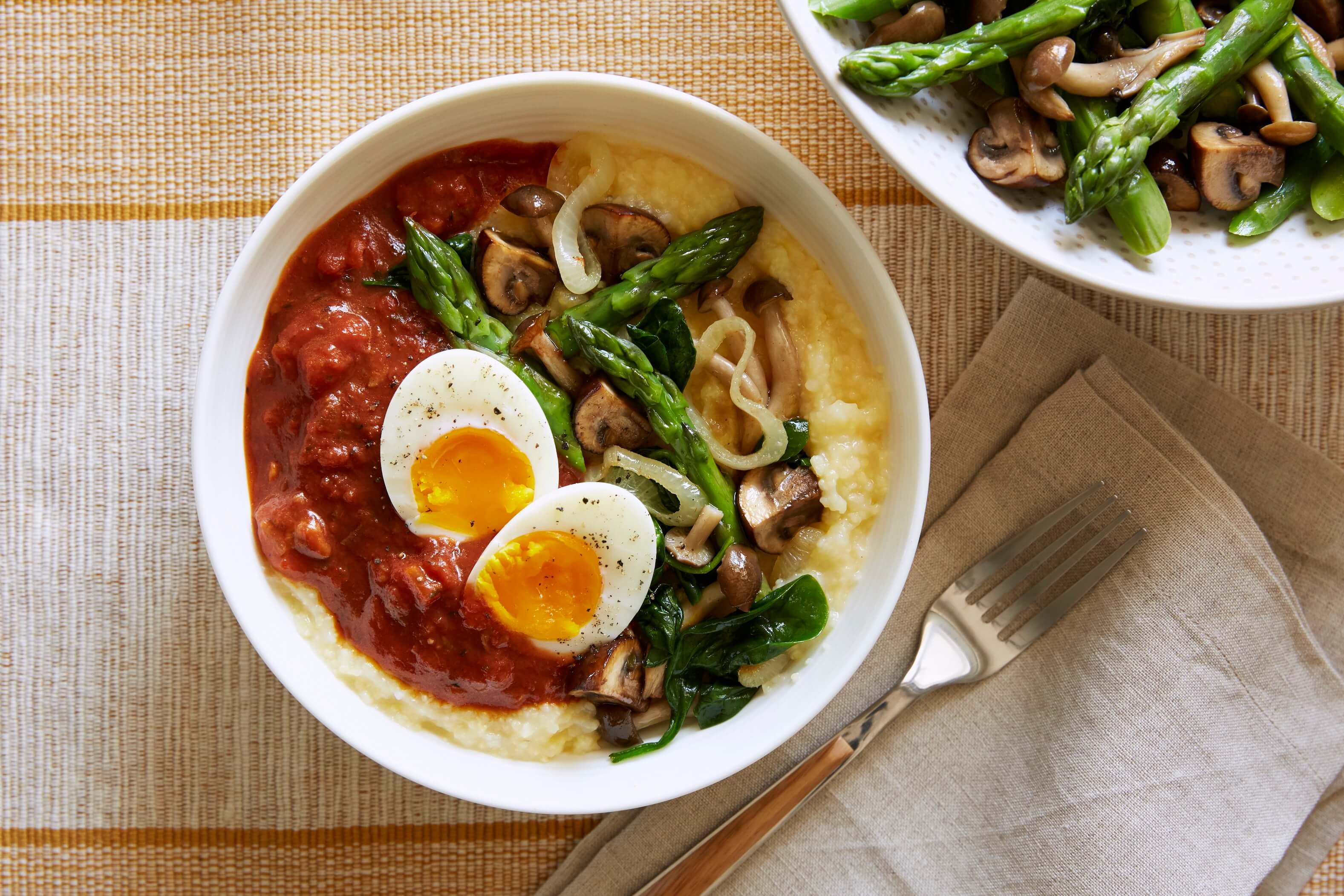 The addition of a soft-boiled egg on top of this hearty and healthy polenta bowl makes this delicious dish the perfect meal any time of day. Highly customizable, you can make it your own, using your favorite ingredients or tailor it to what's in season. No matter how you prepare it, this dish is sure to satisfy.
Polenta
4.5 cups water
1 teaspoon salt
1 cup cornmeal
2 tablespoons unsalted butter
1/2 cup freshly grated parmesan cheese
Brunch Bowl
4 large eggs
2 tablespoons extra virgin olive oil
1 medium shallot thinly sliced
8 ounces wild mushrooms, such as cremini, oyster and trumpet roughly sliced
1 small bunch asparagus ends trimmed and cut into 1-inch pieces
salt and pepper to taste
2 tablespoons balsamic vinegar
2 large handfulls baby spinach
1 cup Family Recipes Wild Mushroom Sauce warmed
Instructions
Make the polenta: In a medium pot, add the water and salt and bring to a low boil over medium heat. Slowly whisk in the cornmeal, stirring constantly. Reduce the heat to low and simmer, stirring often until thickened, about 25-30 minutes. Stir in the butter and parmesan cheese and keep warm until ready to serve.
While the polenta simmers, make your soft-boiled eggs and vegetables: Bring a pot of water to a boil and carefully lower in the eggs. Set a timer for 6 and ½ minutes. Carefully remove the eggs from the water using a slotted spoon and transfer to an ice bath to stop the cooking process. Remove the eggs from their shells and set aside.
Heat the olive oil in a large skillet over medium heat and once the oil is hot, add in the shallots and cook until softened, about 3-4 minutes. Add in the mushrooms and asparagus, season with salt and pepper and cook, stirring often, until the mushrooms turn a nice golden brown and the asparagus is tender, another 5-6 minutes. Pour in the balsamic vinegar and cook for 1 minute until the liquid has evaporated.
Lastly, add in your spinach and cook until just wilted, roughly 2 minutes. Season with more salt and pepper to taste.
Divide the polenta among 4 bowls and add ¼ cup of the warmed Mezzetta Family Recipes Wild Mushroom Sauce. Fill each bowl with a large spoonful of the vegetable mixture and top with a soft-boiled egg cut in half lengthwise. Season with a few cracks of black pepper and serve.
Enjoy!